"For the whole Divine Scripture is one Book, and the one Book is Christ, for the whole Divine Scripture speaks of Christ and is fulfilled in Christ.  Our purpose in reading Scripture is that, by gaining knowledge of what He did and said and commended, we may be enabled to do what He told us and receive what He has promised." Hugh of St. Victor, Noah's Ark II. 11. in Hugh of Saint-Victor: Selected Spiritual Writings, trans. Religious of C. S. M. V. (Eugene, OR: Wipf and Stock, 1962), p. 86. [Emphasis added]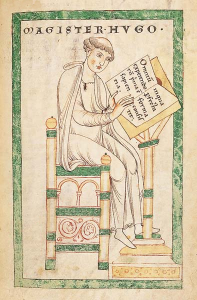 Hugh taught in Paris during the early twelfth century at the Abbey of St. Victor.  During this era the schools in northern France, especially in Paris, emerged as the most significant schools of theology in Western medieval society. Hugh's writings demonstrate a combination of the contemplative and early scholastic method to theology.
Hugh followed the Christian tradition established by Christ Himself, St. Paul, and later Augustine of Hippo that the central focus of the Bible is Jesus.  Also, notice what Hugh asserts to be the purpose in reading Scripture: to gain knowledge of Christ's actions and to  receive His promises.