"Pilate said to him, "What is truth?" John 18:38   Regarding these words Dr. Luther stated the following:
"I do not know whether Pilate is being serious or whether he is mocking.  But in my understanding, I take what he says to be sheer mockery and a sarcastic way of speaking, for Pilate was a wise, shrewd Gentile.  Therefore, he looks down on Christ and say: 'Hah! If You will concern Yourself with truth, then You are lost.  Complaisance makes friends; truth makes enemies.  If You are the kind of man who deals in truth, it is no wonder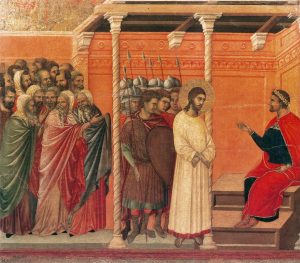 that You have been taken captive and led here bound.  If you want to live on earth, You must give up the truth.' Thus I understand what he says to be a heathen jest, spoken with a shameless conscience." Martin Luther, Sermons on the Gospel of St. John: Chapters 17-20, Luther's Works, vol. 69, p. 216.   [Emphasis added]
The editors identified Luther's quote of Terence's Andria in the bold section from the quote above.  Truth simply isn't popular among human beings therefore, those who tell the truth make their own enemies.