"Works of piety and love are infinitely better than indulgences; and yet [the indulgence preachers] do not preach them with an equally big display and effort.  What is even worse, [the preachers] are silent about them because they have to preach the sale of indulgences.  The first and only duty of the bishops, however, is to see that the people learn the gospel and love of Christ.  For on no occasion has Christ ordered the indulgences be preached, but he forcefully commanded the gospel to be preached.  What a horror, what a danger for a bishop to permit the loud noise of indulgences among his people, while the gospel is silenced, and to be more concerned with the sale of indulgences than with the gospel!  Will not Christ say to [such bishops], 'You strain out a gnat but swallow a camel.' " Martin Luther, "Letter to Cardinal Albrecht, Archbishop of Mainz" in Luther's Works, vol. 48, p. 47. [Emphasis Added]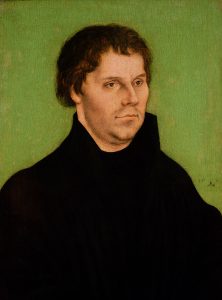 On October 31, 1517, Dr. Martin Luther addressed a letter to Archbishop Albrecht of Mainz in which he attacked the preaching and distribution of indulgences to Christians.  This quote from that letter demonstrates his dogged resolve based in his newly-discovered theology of grace and faith based on his reading of the Bible and Augustine of Hippo's writings.  Notice, Luther's criticism of indulgences rested on his faith in the good news of Christ.  As he wrote in the Thesis 62 of the Ninety-Five Theses:
"The true treasure of the church is the most holy gospel of the glory and grace of God." LW 31: 31.
In the explanation of this thesis a few months later he wrote:
"…the gospel is a preaching of the incarnate Son of God, given to us without any merit on our part for salvation and peace.  It is a word of salvation, a word of grace, a word of comfort, a word of joy, a voice of the bridegroom and the bride, a good word, a word of peace." LW 31: 231.