"This holy festival, Pascha, is called a Passover because just as the Hebrew people were freed through the blood of the slaughtered lamb, from the angel, passing through Egypt for striking, so the faithful people are defended  through the blood of Christ the true lamb from the devil.  And just as the people, liberated from the the yoke of Pharaoh, passed over into Promised Land, so the Christian people will pass over from the yoke of the devil, liberated through Christ into the homeland of paradise."   Honorius Augustodunensis, "De paschali die." Patrologia Latina 172:930A [My translation]
In the early twelfth century, Honorius Augustodunensis wrote a collection of the sermons that survives in numerous manuscripts in the German-speaking lands of medieval Europe.  In this sermon for Easter, he explains how the Hebrew Passover foreshadowed the redemption of Christ's blood for believers.  During the twelfth century, monastic preachers began to focus more intently on Christ's redemption of sinful humanity.  For example read this excerpt from one of Bernard of Clairvaux's sermon on the Song of Songs: 
"How sweet it is to see as man the Creator of humanity.  While he carefully protected nature from sin, he forcefully drove death from that nature also.  In taking a body he stooped to me, in avoiding sin he took counsel with himself, in accepting death he satisfied the Father.  A dear friend, a wise counselor, a strong helper." Bernard of Clairvaux, Sermon 20. II. 3 trans. Kilian Walsh, On the Song of Songs I (Kalamazoo 1971), p. 149.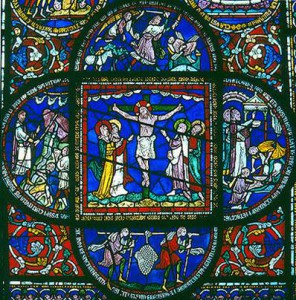 How did the Creator of humanity do this? Both Honorius and Bernard answer this question in more than one sermon. He does this through his suffering a tortuous death upon the Cross and overcoming death through the Resurrection. As only the bloody death of the lamb could protect the Hebrews from the Angel of Death, so only the bloody death of the incarnate God could overcome death. Following the section above, Bernard wrote Christ's act of redemption:
"He is the one who conquered all things, even death, and tricked the serpent, the seducer of the world, with a holy deception. He was more prudent than the one, more powerful than the other. He took to himself as true body but only the likeness of sin, giving a sweet consolation to weak men in the one and the other hiding a trap to deceive the devil. To reconcile us to the Father he bravely suffered death and conquered it, pour out his blood as the price of our redemption." (Ibid.)