"Perhaps at the time the angel came, she was holding [the text of] Isaiah in her hands; perhaps she was then studying the prophecy which declares: Behold a virgin shall conceive and bear a son and his name will be called Emmanuel.* I think that at this moment these [words of the] Scriptures were producing a very appealing conflict in her heart.  I think that when she read that it was to come to pass that a certain virgin would give birth to the Son of God, secretly and with some fear she longed that she might be that virgin. But at the same time she considered herself utterly unworthy of being granted such a privilege." Aelred of Rievaulx, "Sermon 9: For the Annunciation of the Lord," in Aelred of Rievaulx: The Liturgical Sermons, trans. Theodore Berkeley and M. Basil Pennington (Kalamazoo 2001), p. 162. [Italics in original]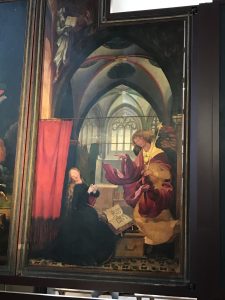 Aelred of Rievaulx preached on the Annunciation of the Lord to the Blessed Virgin Mary here.  As a Cistercian abbot in the twelfth century, Aelred focused on the Incarnation of Christ in his preaching and devotional texts.  Notice how he imagines that Mary was reading the text of Isaiah that prophesied Virgin's conception and birth of Christ.  Gabriel brings God's word to Mary but she was also reading text of holy Scripture. Later  medieval artists often depicted Mary as reading this text when Gabriel appeared to her as depicted in the Isenheim Altarpiece painting to the right (Photo taken by Matthew Phillips).  Medieval theologians emphasized Mary's virtues.  Aelred did not differ as he concluded:
"Charity conflicted with fear, devotion with humility.  At one moment she almost despaired through overwhelming fear; at the next, through the overwhelming desire she drew from it, she could not but hope.  First, devotion moved her to presume to it, but then her great humility moved her to hesitate.  It was then, when she was in this [moment of] hesitation, this wavering, this longing, that the angel came to her and said: Hail, full of grace."** Ibid.
*Isaiah 7:14
**Luke 1:28
On the development of the devotional tradition of the reading Virgin Mary see Laura Saetveit Miles , "The Origins and Development of the Virgin Mary's Book at the Annunciation," Speculum 89.3 (2014): 632-669.