"I prefer to be frank and not have anyone misled by flattery. I can testify that although my shell may be hard, still my kernel is soft and sweet. I wish no one harm, but desire everyone to carefully consider these things with me. Just as my harshness has hurt no one, so it has deceived no one. Whoever avoids me suffers nothing from me; whoever bears with me is profited. In Prov. 28 [:23], Solomon says, 'He who rebukes a man will afterward find more favor than he who flatters with his tongue.' "*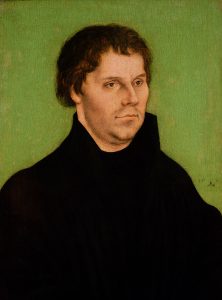 Martin Luther wrote these words in June 1521 when he was hiding out at the Wartburg Castle near Eisenach. Luther and his political supporters within Electoral Saxony, part of the Holy Roman Empire of the German Nation, had made the decision to keep him there after the Diet of Worms in late April. Condemned as a heretic and an outlaw, his temporal circumstances were precarious. However, Luther remained quite active in his scholarly work. During the year 1521, he translated the New Testament into German, wrote numerous letters, wrote a collection of sermons, completed commentaries on various Psalms, and responded to his theological opponents.
In the quote above Luther is responding to a theologian at the University of Louvain named Jacobus Latomus (originally named Masson). Luther had to write this refutation without a library and quoted many things from memory. This fact makes Luther's long point-by-point refutation of Latomus more impressive. In so doing, Luther addressed the main theological issues of his nascent Reformation: original sin, good works, faith, law, grace, and the gospel. When it came to theological truth, Luther asserted that frank, open debate served his opponents more than flattery and may save their souls. As he wrote earlier in the same text:
"Now I have never insisted that anyone consider me modest or holy, but only that everyone recognize what the gospel is. If they do this, I give anyone freedom to attack my life to his heart's content. My boast is that I have injured no one's life or reputation, but only sharply reproached, as godless and sacrilegious, those assertions, inventions, and doctrines that are against the Word of God."**
*Martin Luther, Against Latomus, Luther's Works 32: 142. [Emphasis added]
**Ibid., 141.